Hardwood
Refinishing
Refinishing Without the Dust
Refinishing Without the Dust
You have made your home into a beautiful and comfortable place for your family and yourself. Your home is also a center of life and activity. At Kelly's Flooring, we want to help you keep your hardwood floors beautiful while you use them. We can help you whether your floors need to be deep cleaned or need a complete sanding and refinishing. We are committed to giving you true and transparency so you can make the best decisions for your family and home and bring your floors back to their original condition.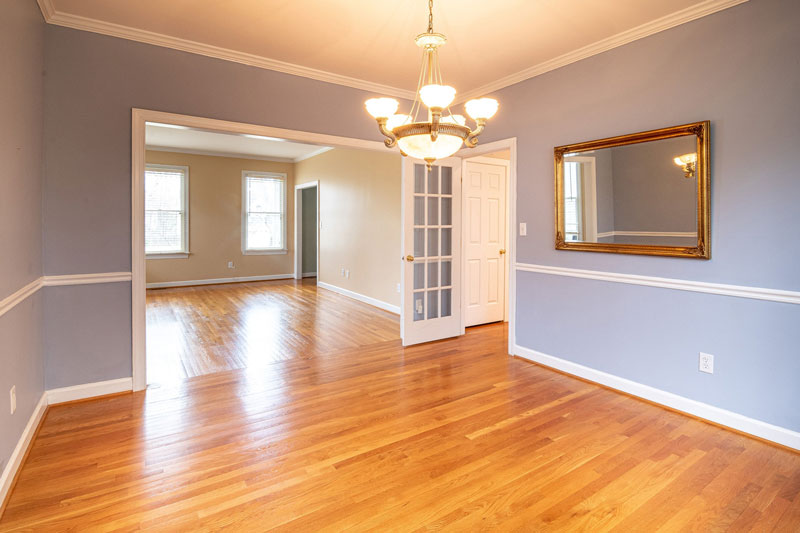 To protect your floors and maintain their natural beauty, recoating is a must.  The polyurethane finish does wear off naturally over time and must be replaced.  This process takes one day and will fill in small scratches and restore the shine to your floors.  However, recoating won't correct deep gouges or discoloration that has occurred over time. 
Has the original finish been worn from your floors?  Has the floor has begun to take on a greyish color? Perhaps you would like to remove deep scratches or signs of dog nails. These are among the number of different situations require a full refinishing.  
Maybe you are extending your wood floors into other areas of your home.  We can match the color of the new wood to your existing floors and make the installation seamless at the same time.  This is accomplished by refinishing your older floors during the installation process. 
Here's a quick test to help you decide if your floors need to be recoated or refinished.  Try to find a portion of your floors showing the most wear and tear.  Wet a washcloth and apply it to the area.  This is an example of what a recoating will do for your floors.  Is it shiny?  Recoating may be the way to go!  Does it make the floor look worse?  It might be time for a full refinishing.
Whether you choose to recoat or to refinish your floors, Kelly's Flooring will provide you with straightforward and specific facts to assist you in the decision-making process. 
What is Dust-Free Refinishing?
Sanding hardwood floors is traditionally a tremendously dusty undertaking, leaving the homeowner with the immense job of cleaning the dust from every nook and cranny around the home.  However, all hardwood work performed by Kelly's Flooring is dust-free!  We use Bona's innovative Atomic Dust Containment Systems.  With this system, we can contain 99.8% of the in-air dust traditionally created by sanding. 
This means the dust that would have collected in curtains, upholstery, heating vents, clothing, and cupboards will instead be collected by Bona's GREENGUARD certified system.  Just imagine the time you will save! In addition, this system creates the most clean, healthy, and quick way to refinish floors. 
The Finish: Which Finish Fits Your Traffic Pattern?
Kelly's Flooring offers a variety of hardwood finishes.  We strive to give you the details you need to make an informed decision about your selections.  Our professionals can help you decide which choices are a good fit for your home while achieving the durability, price, and the appearance that are important to you.  We aim to deliver the service that will enable you to preserve the beauty of your home for life. 
Drying times: Floors must dry:
We hope this article has helped with your decision-making process! Call to schedule an appointment where we can help you discover which floor options are best for you and your home.